Are you worried the fuse box in your house is too old and no longer complies with electrical UK regulations? Is it time to replace it with a more modern Electrical Consumer Unit? How long is it going to take and more specifically, how much is it going to cost? Read on and you'll find out all the answers to these questions including what is involved with the fuse box replacement process so you can make the right choice for your household or business premises.
Let's start with:
What is the difference between a fuse box and an electrical consumer unit?
Both residential and industrial electronics circuit systems require some form of protection to prevent catastrophic failure, circuit damage or loss of life due to excessive current brought on by a short circuit overload, a device failure or some other unforeseen fault.
The two most common forms of circuit protection are fuses and circuit breakers.
Fuses are made up with a filament enclosed in a glass, porcelain or ceramic case. This filament normally completes the circuit. In the event of an overload or short, the filament melts and opens the circuit.
Circuit breakers use a set of contacts to complete the circuit. The switching mechanism has a metallic lever that can be actuated by a solenoid or a bimetallic plate. With magnetic circuit breakers the short circuit current charges the solenoid attracting the metal lever that trips the device.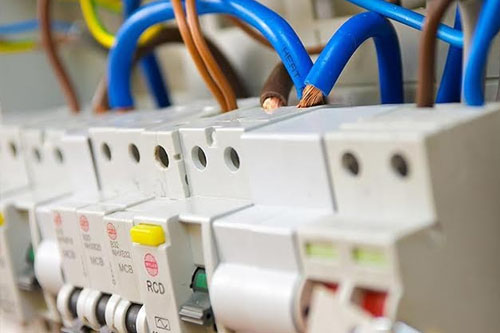 Fuse Boxes and Circuit Breakers
Thermal circuit breakers, often found in residential properties use a bimetallic strip that expands when he is applied. Once enough heat has been generated due to an overload the unit will trip.
Residential and industrial premises may also use thermal magnetic circuit breakers which is a combination of the two fuses.
Fuse boxes tend to be less expensive than circuit breakers and are also considered safer due to their current eruption capacity rating. The overall footprint of the fuse or fuse block will also be somewhat smaller than that of a comparable rated circuit breaker in most cases. One disadvantage of fuses is that they need to be replaced once they are blown.
Circuit breakers are resetable and do not need to be replaced after actuation. Although they are more expensive than fuses circuit breakers reduce maintenance costs and downtime of equipment.
They can also serve as a primary disconnect of power to an industrial panel or circuit. Options for remote tripping or auxiliary circuits are also readily available for most types of breakers.
A possible disadvantage to circuit breakers is that the currents they let through may be higher compared to a fuse. Some fuse designs provide faster response times to fault currents than circuit breakers are able to achieve.
For assistance in picking out the right fuse and circuit breaker for your application contact us for more information.
How do I know if I have an old-fashioned fuse box?
An old-style fuse box will have a series of fuses contained inside fuse carrier which you can manually remove and replace when one of them goes off following a power overload.
The image below shows an old-fashioned fuse box.
A consumer unit on the other hand will be made up of a horizontal row of Mini Circuit Breakers (MCB). Each MCB will have a switch which can go off in case of a power surge.

The picture below shows a typical electrical consumer unit.
Which consumer unit do I need?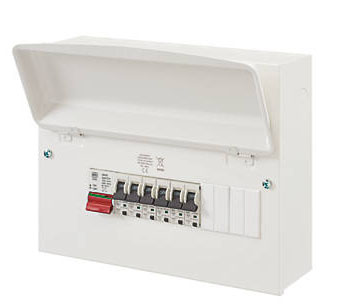 Main switch consumer unit
The main switch consumer unit has one main switch that can switch off all the circuits in the house. In the event of a power surge, the main switch will trigger itself in the off position along with the trigger of the faulty circuit.
This is a popular choice for small houses and flats.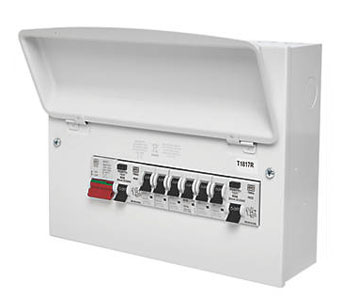 A dual RCD (residual current device) consumer Unit offers the ability to split load the power over two sets of circuits, RCD1 and RCD2.
The advantage of this consumer unit is that it is possible to alternate the circuits so the power can still be available in some part of the house if one of the RCDs is no longer operational. This is ideal for multiple storey houses.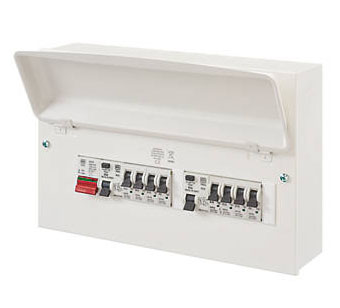 High integrity consumer unit
High Integrity consumer unit have become a very popular choice over time as they offer the ability to separate all circuits independently. So while your freezer may stop working, everything else will continue working without interruption.
How much does a fuse box or electrical consumer unit replacement cost?
The cost of replacing a fuse box or an electrical consumer unit to an upgraded unit can vary greatly as it will depend on many factors such as:
The type of consumer unit that is needed
How many circuits are required
How old the exiting installation is
A typical replacement will cost between £375 and £550 and will include:
Parts and labour
An upgraded consumer unit
NICEIC Electrical installation certificate and part P notification to building control
The quote in this example does not include the earth & bonding check which need to be carried out before the replacement takes place. The earth and bonding inspection will establish if there are any fault in the existing installation which need to be addressed before the fuse box can be replaced.