Landlord Electrical Safety Certificates compulsory from 1/6/20
From 1st June 2020, private landlords in England will be required to have their rental properties checked by a qualified electrician to ensure that they are safe.
Electrical installations must be inspected and tested prior to the start of a new tenancy and checks on existing tenancies must be carried out by 1st April 2021 and every 5 years subsequently.
A copy of the most recent electrical safety condition report (EICR) must be provided to both new and existing tenants.
EICRs can be issued by certified electricians who will perform a series of inspections and tests of the electrical installation, which does not include electrical appliances. It is recommended that appliances are also checked for safety (PAT Testing), however it is not currently a requirement of the legislation.
The Electrical Installation Condition Report (EICR) document
The landlord is responsible for making sure that the person who completes the check is suitably qualified so it is always best to use an electrician or firm that is a member of an accredited registration scheme operated by a recognised body.
Existing installations may already have a valid (less than 5 years old) Electrical Installation Certificate covering the whole property which would have been issued when the electrical installation was first installed or rewired.
If there is no valid certificate then an Electrical Installation Condition Report is required which will provide you with an overview of the condition of the electrical installation and, where relevant, will list any remedial works that may be required and the urgency of the work needed. Once any remedial work has been completed a Certificate can be issued.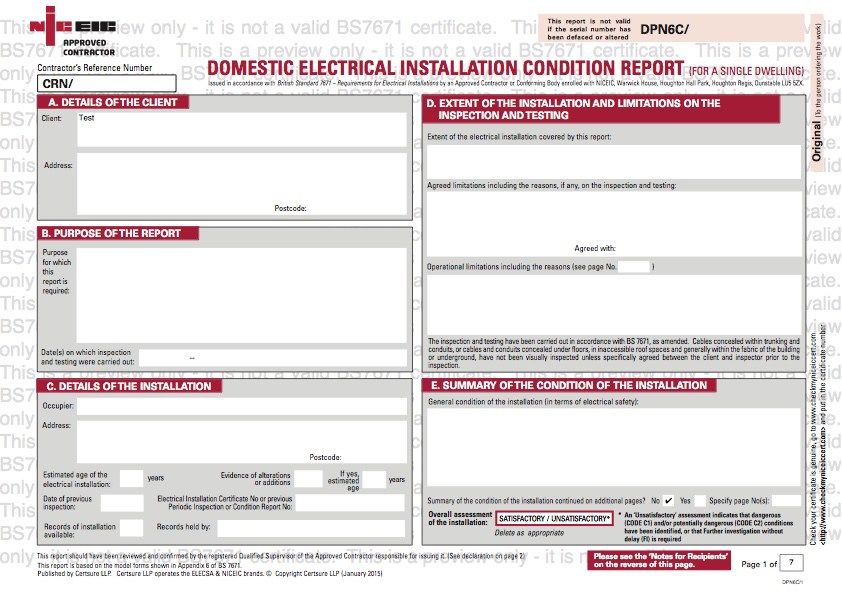 These remedial works are coded as follows:
Code C1: Danger present, risk of injury – immediate remedial action required
Code C2: Potentially dangerous – immediate remedial action required
Code C3: Improvement recommended
Code F1: Further investigation required
All C1, C2 or F1 codes must be rectified within 28 days or less as specified in the report.
Failure to comply with these new regulations could mean that the local authority serves a notice setting out the remedial work required to comply and may also impose a fine of up to £30,000.